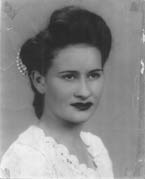 Mom, Loyce, in the 1940's
ERNIE KWIAT - (? rhymes with kumquat)
3682 39th Ave.
Apt. E
Oakland , CA
94619
510 482-4828
FREELANCE: ILLUSTRATOR / DESIGNER
Working almost exclusively with Sesame Workshop and their licensees to develop digital art of the Sesame Street characters for applications on a wide variety of consumer products and for use in traditional and electronic publishing. Some of my other clients have included JIM HENSON PRODUCTIONS, TYCO PRESCHOOL, SONY WONDER BOOKS, READER'S DIGEST, BERLITZ LANGUAGES, APPLAUSE, FOSTER GRANT, FRUIT OF THE LOOM and KMART. Most recently, creating a set of original characters for GYMBOREE / Music and Play group.

SESAME STREET RETAIL STORES: SENIOR DESIGNER / ILLUSTRATOR
Worked with Product Managers and Sesame Workshop to develop exclusive product lines which included toys, housewears, collectibles, apparel (infant to adult) and accessories. Using traditional and computer skills to create colorful and fun character art and packaging.

NATIONAL DESIGNWEAR: ART DIRECTOR / DESIGNER / ILLUSTRATOR
Supervised a 5 person art department in the development of imprinted sportswear programs for clients such as DISNEY CO, LUCAS FILMS, UNIVERSAL STUDIOS, MAY CO, DAYTON HUDSON, MERVYN'S and MILLER'S OUTPOST.

ANDY'S: DESIGNER / ILLUSTRATOR
Designed, illustrated, and completed production art for this printing company's imprinted sportswear lines, whose licenses included FORD, GENERAL MOTORS and PEPSI.

CAL STATE UNIVERSITY: ADJUNCT PROFESSOR
Taught and assisted in teaching beginning, intermediate, and advanced undergraduate printmaking classes.

EDUCATION:
MILLS COLLEGE: MFA / Printmaking / Painting
CAL STATE UNIVERSITY, HAYWARD: BA / Fine Arts
CALIFORNIA COLLEGE OF ARTS AND CRAFTS: Illustration
COLLEGE OF ALAMEDA: AA / Fine Arts
SCHOOL OF VISUAL ARTS: Fine Arts and Illustration